Improve your business with Global Sources by taking advantage of our upcoming partnership programs. You can get quality content streamed to your website, let your customers access over 130,000 suppliers, and much more.
Your users can find thousands of new products and thousands of high quality new suppliers from China and the world, directly from your site using a Global Sources search box.
Get your FREE search box now by plugging a small piece of code to your web pages.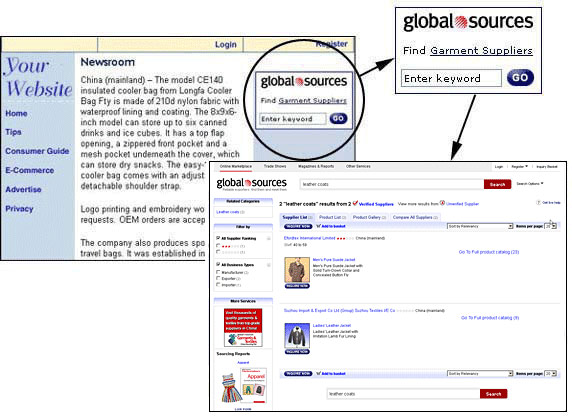 Provide your users sourcing links to the newest products and suppliers of:
- Auto Parts & Accessories
- Baby & Children's Products
- Consumer Electronics
- Computer Products
- Electronic Components
- Fashion Accessories
- Garments & Textiles
- Gifts & Home Products
- Hardware & DIY
- Telecom Products
Interested? It's easy to do - click here to generate code for your website now.
If you are interested in other partnership opportunities with Global Sources, please e-mail us at
service@globalsources.com
.