Featured Sourcing Information
Cheated by China. Check your insurance
Though we have written about this scam a few times previously, I have to write about it again because it just keeps happening, in even greater numbers and in even more diverse circumstances. And this is the one fraud to which I have time and time again seen extremely savvy and sophisticated companies fall prey.
And not only that, I learned a whole lot new about it at my lunch today with a local insurance coverage lawyer.
But first, more on the scam itself. I call it "the new bank account scam" and we described it as follows in a previous post…Continue reading
New Buyer Tools
China Sourcing Fairs Mobile App

Enhance your experience at our China Sourcing Fairs in Hong Kong, April 12-15, 2014. Download this app to easily search exhibitors, products and booths, keep track of our seminar schedule and create your own custom guide!

---
China Sourcing Fairs Mobile App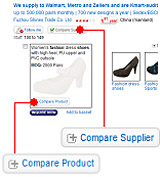 NEW! The "Compare Product" and "Compare Supplier" buttons on GlobalSources.com make it easier for you to find and short-list products & suppliers effectively.
Select products and suppliers of your choice for comparison, view your selection at the bottom right of the page and click on "Compare" to see the detailed comparison. Try it now!