Data Findings
China's May exports pick up, imports fall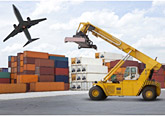 After gaining 0.9 percent in April, China's exports strengthened further in May, climbing 7 percent YoY to keep up with market growth projections of about 6.7 percent.
Imports, however, dropped 1.6 percent, according to data from the General Administration of Customs. Trade surplus, consequently, expanded to $35.9 billion in May from $18.5 billion in April.
The International Business Times attributed the exports upswing to "China's support measures and improvement in the world economy…Continue reading
Ask the Experts
Get practical answers to critical questions on how to source effectively from China:

Question: How do I set up contracts with factories and service providers?
Answer:Let's look at contractual issues with service providers for Logistics (3PL) and Inspections Agency (AKA "QC").
It's a big red flag if your logistics provider and 3rd Party QC firm don't have a written contract for your review. A professional firm will certainly have a contract. If not, run away fast! I would suggest you take the service provider's contract and have a Chinese lawyer in China review it… Continue reading