Featured Sourcing Updates
Using Vietnam to target the emerging ASEAN region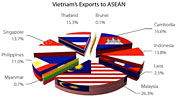 While Southeast Asia's promise remains less well known to many foreign companies when compared to China or India, an increasing number of MNCs have started to target the region. This is especially true of Vietnam due to its cheap labor resources and its positive political, economic and demographic trends.
Over the past 20 years, FDI inflows into Vietnam have increased tremendously in terms of share of investment, import/export turnover and GDP percentage...Continue reading
By "Vietnam Briefing"
Featured Sourcing Advice
My China factory has gone bankrupt: How to get my deposit back?
A client called me and asked my advice regarding an uncomfortable situation. One of his long-time suppliers, a manufacturer in Zhejiang, just announced they had gone bankrupt and had stopped all activity.
My client has wired a 30% deposit for an order that is currently finished, packed, inspected, and accepted for shipment. But that order is not leaving the factory's warehouse.
The manufacturer's contact person tells my client the situation is "difficult". What does the situation look like, exactly?...Continue reading
By Renaud Anjoran at "Quality Inspection Tips"