20 Buzz Worthy Massage Chairs
Welcome to a world where comfort meets three (and sometimes six) speeds.

They're designed as the ultimate relaxation stations, and there is a style and color option that will go with any home décor, from ultra-mod to space age, minimalist to cartoonist.

Whichever your aesthetic, sit back, relax and enjoy the vibrations. Because stress free is the way to be.

1. Relax Massage Chair, Rotates Leftwards/Rightwards within 90° and Four Massage Modes
White chair, padded walls. Not sure "six modes of massage" fits in with the rest of this no-stimuli scenario.
2. Leisure Massage Chair with Foldable Metal Mechanism
This chair's "penetrating heat" means the massage gets in deep.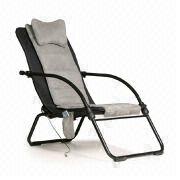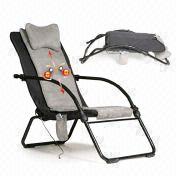 3. Massage Chair with Kneading, Vibration and Finger Press Functions
The future of chairs through the eyes of the 1950s.
4. Music Massage Chair with Ottoman Part and Mechanical Air Squeezing
Kneeding. Tapping. Rolling. Tilt back to 168 degrees of back massaging, leathery comfort.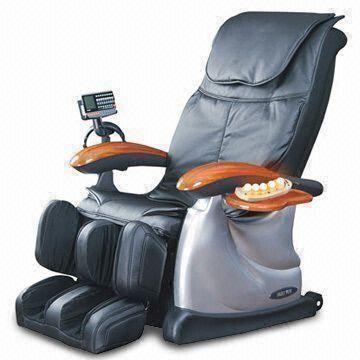 5. Massage Chair with Heat Function and Four Vibrating Motors
This chair flips your feet above your head for zero-gravity, spine-numbing pleasure.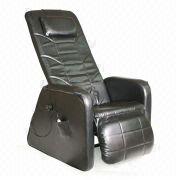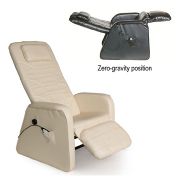 6. Tapping Massage Chair Cushion with Folding Backrest and 45W Power
A comfy bum, no matter what chair you're on.
7. Massage Chair in Fashionable and Recreational Design, Adjustable Backrest
The only chair where cheetos don't leave a stain.
8. Massage Chair with 260W Power, Synchronous Music and Arm Air-pressure Massage Function
Elbow massages are so hard to come by these days.
9. Massage Chair, Buttocks has Vibrating Balls with Three Massage Modes
Based on the description, this chair will take your buttocks to a whole new world.
10. 15W Folding Massage Chair with 10 Vibrating Massage Balls, Five Speed Levels from Slow to Fast
The perfect chair for Summer, the Orange Fantana. Don't you wanna?
11. Massage Chair with Six Massage Modes, Can be Electronically Adjusted
With so many scaling footstools, even the tips of your toes will feel the soothing effects of three automatic massage modes
12. Zero-gravity Massage Chair with S-track Massage Mechanism and 2 Different Modes
The Command Center. It's the executive massage chair for any leader of a robot army or troupe of cyborgs.
13. Massage Leisure Recliner with 6-auto Intellectual Massage Modes
Big, brown, vibrating chairs complement every room of the house... right?
14. Simple and Beautiful Massage Chair, Vibration Function for Buttocks and LED Screen Controller
It's Rumbles! The long lost cousin of Chairry from Pee Wee's Playhouse.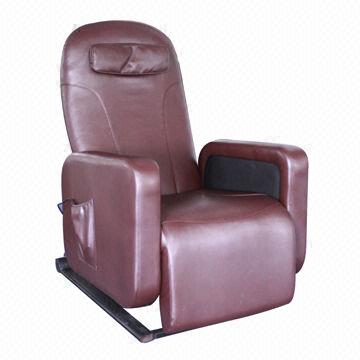 15. Massage Chair, Supports MP3 and AUX Format
Good vibrations go hand in hand with good tunes. This massage chair has speakers and MP3 audio functions imbedded in the head rest.
16. Six Wheels Driven Leisure/Comfortable Massage Chair with LCD Controller and 165° Lie-down
The first step to looking like people from Wall-E.
17. Pedicure Spa Massage Chair with LCD Remote Control, Power of 180W, Manual and Auto Modes
Coming to a mani/pedi parlor near you.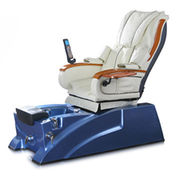 18. Massage Chairs, can be Massaged with Rhythm of the Music
This is where Pac Man goes to eat his comfort food. Gnam. Gnam. Gnam.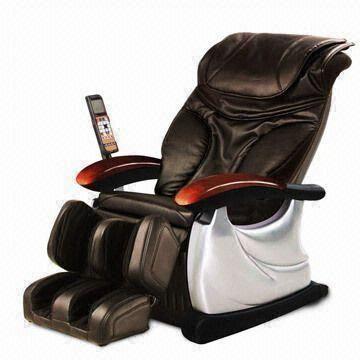 19. Massage Chair, Available with Foldable Backrest
A purple massage chair... ya know, to go with the purple coffee table.
20. Easy-roller Massage Chair in Seesaw Design
You can do a core workout AND get a back massage — all at the same time!