Sourcing Season Guide
(Information refers to the April 2017 show)
April 2017 Sourcing Season Guide: Hong Kong & southern China
The peak spring sourcing period is in April each year, when the biggest electronics trade fairs take place in Hong Kong and Guangzhou. Here's a guide to which shows you need to attend depend on the sourcing needs of your business.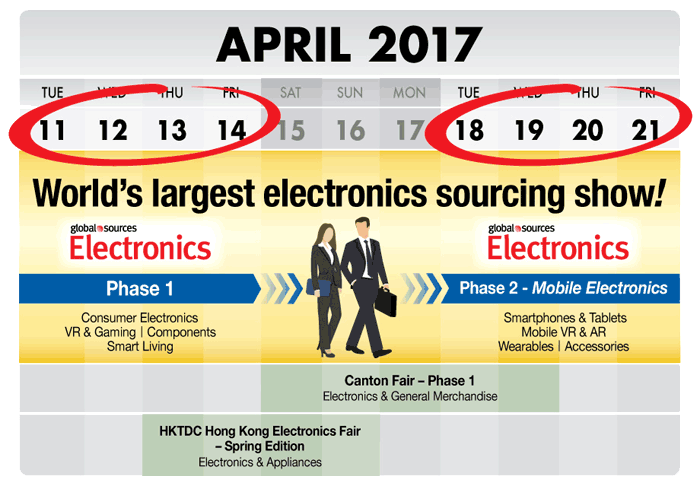 April 11–14: Global Sources Electronics
The first phase of the world's largest electronics sourcing show features 3,700 booths of consumer electronics, components and smart living products. This includes the first 150 booths of the Startup Launchpad, Asia's biggest gathering of electronics startups.
Over 80% of exhibitors are China-based manufacturers, mainly from Shenzhen and elsewhere in southern China. Attend this show for the region's biggest selections of computer products, security, outdoor electronics and electric personal transporters, in-car electronics and virtual reality.
April 13–16: HKTDC Electronics Fair
Hosted at the Hong Kong Convention and Exhibition Centre, this general electronics show features a large selection of general electronics and home appliances. A must-visit if you are looking for "white goods" such as ovens or vacuum cleaners.
The majority of exhibitors here are traders and distributors based in Hong Kong, China or Taiwan.
April 15–16: Canton Fair phase 1
A sprawling general merchandise show held in Guangzhou, China that includes 7,000 booths of general electronics, of which around 3,000 are dedicated to home appliances.
By far the biggest show around in terms of sheer quantity, most overseas visitors to the Canton Fair travel via Hong Kong, which has convenient air and rail links to Guangzhou.
Most Canton Fair exhibitors are mainland Chinese state-owned enterprises.
April 18–21: Global Sources Mobile Electronics
The second phase of Global Sources Electronics is the world's biggest mobile electronics sourcing show, and still growing — it has 2,700 booths of smart devices, mobile VR, wearables and accessories. This number includes 150 booths of mobile-focused startups at the Startup Launchpad and the biggest selection of wearable electronics in the region.
As with the first phase, most exhibitors are privately-owned manufacturers from mainland China.